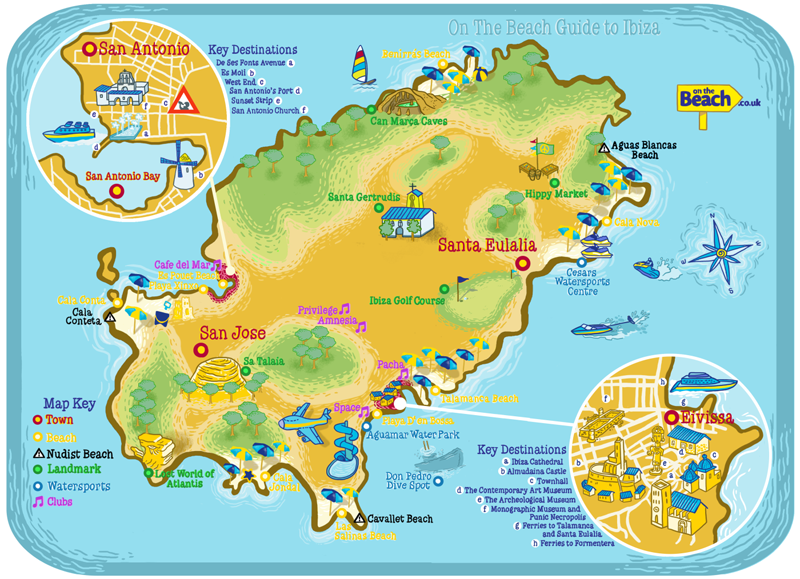 Salinas:
Near the airport, the most famous beach on music videos, long sandy with a nude area on the left (after a bit of walking) and nice beach clubs.
Cafe del Mar:
Near San Antonio City, very famous for its Sunset on the see and its lounge DJs.
Playa dem Bossa:
Between Salinas and Ibiza Town, the famous party area of Ushuaïa, Bora Bora, Space and other daily clubbing on the beach…
Talamanca:
This is the beach under the hotel. If you follow it to the right, you'll find a bunch of poles for pictures before arriving at Ibiza Harbor and the city.
If you follow the coast to the left, there is a restaurant on the rocks and you can try cave hunting (ask us for details when you get there).
Cala D'hort:
North-West, near San Josep, the most beautiful view of es Vedra Island and a great place for Paella and fresh Lobsters.
Aguas Blancas: 
East, after Santa Eularia, the "Mud beach": a long sandy beach with clay oozing from the cliffs. Bring a spoon and a bottle of water to get the best bodypaint of your life…
Benirras:
North after San Miguel, the weekly Sunday-night drummer's party. All the drums of the island meet there to play until the sun sets. Be there before 3pm if you want to find a parking space.
Formentera: 
The nearby island, you can see it from Ibiza. Boats and ferries are driving back and forth all day.
It's in our program each year during the summer camp to hop over and spend the day in its crystal turquoise waters.
Those are the popular and famous beaches. For the secret ones, we will take you there but we won't be sharing them online…